Bow Thai Gift and The Loyalty Card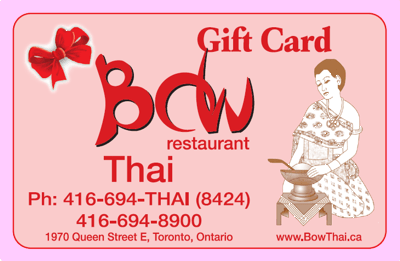 Bow Thai Restaurant Gift Card is available in any $ denomination. You can purchase the Gift Card while dining in the restaurant, or you can order the Gift Card with your food delivery. Bow Thai Restaurant will also arrange The Gift Card to be mailed or delivered to your friends, business clients or associates. Earn Loyalty Points while dining or ordering from Bow Thai restaurant!
Business dinners, lunches or entertaining?
The Gift Card purchase is 100% tax deductible business expense, while business lunches and dinners are only 50% tax deductible business expenses!